The Henderson County Photo Studio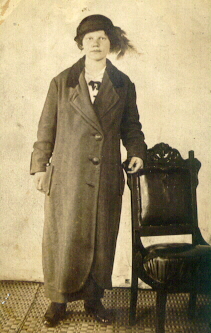 DOLLIE N. ROBERTSON

DOLLIE N. ROBERTSON was the daughter of JOSEPH C. ROBERTSON and MARTHA ELLEN PENNINGTON. Dollie was born in Henderson, Ky in March of 1900. She married WILLIAM C. RAY of Henderson, Ky on March 26, 1914. William and Dollie had a daughter VIRGINIA (MARIANNE) RAY on April 27, 1915. Virginia married VIRGIL STAPLES and had 15 children.
This photo is submitted by Patricia Geving.

Thank you Pat for such a lovely old picture!